I'm sharing today how to save money on groceries. If you follow these shopping tips, you'll be able to save tons of money on your monthly grocery bills. These are the ways I was able to stay within my food budget as a single mom with growing teenage boys and how I'm able to keep my food bill low now that it's just the two of us on a single salary. You won't feel like you're sacrificing following these simple tips; it just takes a bit of pre-planning.
Even though it's just my husband and me now, I'm often shocked by how much we can spend at the grocery store, particularly now that we're eating at home more. If I don't think about what I'm spending, we can easily spend as much or more than I spent for my family of four back in the day. However in these uncertain economic times, I still need to watch every penny so I'm reverting back to all the tricks I used as a single mother of three teens to save as much as I can of groceries. Here are 20 easy ways you can slash your grocery bill and save tons on food without sacrificing or cutting coupons.
1. Save Money on Groceries by Meal Planning
How many times have you opened your full pantry and realize that you don't have the ingredients you need to make dinner? Maybe you want spaghetti and you've got spaghetti sauce, but, oops – no noodles. Or you're in the mood for beans and rice but you're out of beans.
Take some time at the beginning of each week to plan out your meals for the week by first browsing the weekly sales at your local supermarket. You don't need to buy the newspaper anymore to browse your grocery store's ads; simply check out the store's website.
Be Frugal has a great list of the weekly ads for every major grocery store. Once you've identified what items are on sale, you can plan meals that use those ingredients.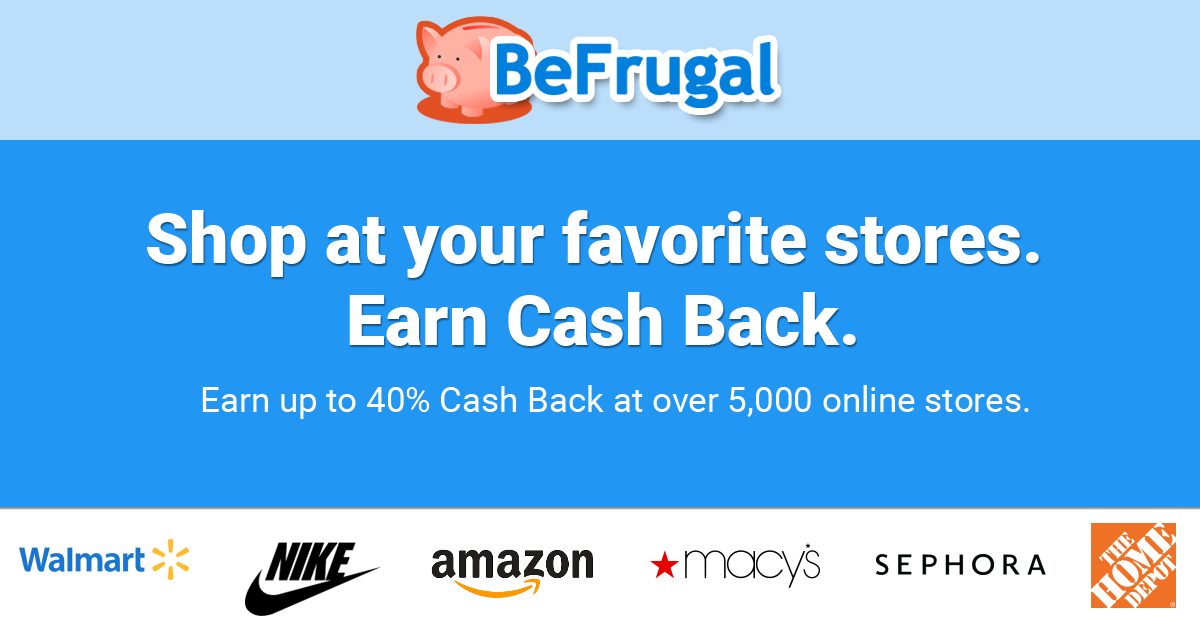 Weekly Ad Circulars & Sunday Flyers for 200+ Stores
BeFrugal is a coupon, deal and cash back website. Shoppers can use BeFrugal to earn cash back rewards at 5,000 online stores. Founded in 2009, the company is owned by Capital Intellect, Inc. and based in Boston, Massachusetts.
(Pro tip: most grocery stores put some kind of meat on sale each week. If pork chops are a great buy, plan at least one meal that uses pork chops for that week.)
2. Inventory Your Fridge and Pantry for Foods That Need to Be Used Up
As you plan your meals, don't forget to plan to use what you already have. Look at your pantry and your fridge – do you have vegetables that are about to spoil? Should you plan a recipe to use up some of the canned tomatoes you bought on sale last week? Using food you already own is the best way to save money on your grocery bill. Don't let anything go to waste!
3. Shop In Season
Don't forget the seasonal fruits and vegetables when you're planning your meals. Produce is the healthiest and cheapest when you buy during the natural season. You can get great deals at the farmer's markets on in-season fruits and vegetables, but in-season produce is often cheaper at your local grocery store too.
Use this comprehensive list of what fruits and vegetables are in season as you plan your meals.
The Ultimate Guide to Seasonal Fruits and Vegetables
Enjoy fresh food year-round! Discover when your favorite fruits and vegetables are in season, at their peak of flavor, and often at the best price.
4. Make a Grocery Price Book to Track Prices of Items You Commonly Buy
I first learned about the concept of the Grocery Price Book from The Tightwad Gazette, the book and newsletter we all followed in the pre-Internet days to get frugal living tips. Basically it comes down to keeping track of the prices you pay for items you frequently buy. Once you've been tracking prices for a while, you can determine which stores are cheapest for certain products and when items tend to go on sale. That way you can always be sure you're getting the best value for each product when you make a purchase.
Money Crashers has a good article on how to make and use a Grocery Price Book.
Taking the time to make a price book probably seems like an extreme thing to do but I really did it during my days as a struggling single mom and it was the most helpful thing I did in terms of saving money. You quickly learn when something is on sale for a very good price and it's time to stock up. In fact, I still reap the benefits from this habit to this day. You should see how excited I get when I come across something that's really deeply discounted and my disdain at a "fake sale."
It actually doesn't take that long to do this. I had an Excel spreadsheet that I used and I'd take my receipts out when I got home and simply enter the prices of the items I bought into the Excel spreadsheet.
How to Make a Grocery Price Book to Save at the Supermarket
Want to save more money while grocery shopping? Setting up a price book can help you trim expenses at the supermarket along with your food budget.
5. Shop at More than One Store
Of course, it's pointless to track the cost of items at various stores if you only shop at one store. If you're really going to save money on your groceries, it's helpful to go to more than one store during your weekly grocery shopping trip.
If you plan your route carefully, you can save money by including multiple stores on your weekly grocery run. I'm lucky that several different types of stores are very close to each other in my neighborhood so my weekly grocery run might include a stop at Aldi for wine, Sprouts for produce, and Walmart for the Diet Doctor Pepper that I really should quit drinking. Find out what deals each store in your area tends to have.
6. Make (and Use!) Your Grocery List
Once you've determined what you'll be eating in the next week, create your grocery list by checking to see which ingredients you already have and which you need to buy. That way, you won't ever open your pantry and discover you have 3 bottles of turmeric. (Possibly a real story from my life.)
When you finally get to the store, DON'T VARY FROM YOUR LIST! Grocery stores use all kinds of tricks to get you to give in to the lure of the impulse buy. Resist the temptation by sticking strictly to your list.
Here's a great resource for all kinds of printables to help you plan meals and create your grocery list.
20 Free Menu Planner Printables | Fab N' Free
1. Weekly Menu Planner by Fab N' Free I have made a super simple black and white Weekly Printable planner for you! It is black and white for ink saving 🙂 2. Printable Menu Plan + Shopping List by Craft, Sew, Create I like this menu because it is simple, cute and I really …
7. Cut Out Non-Nutritious Snacks and Soft Drinks
Obviously a "Do as I say, not as I do" tip. I do pretty well at not buying snack foods, but I do need my daily Diet Dr. Pepper (or two). If I actually did cut out soft drinks, I could shave a good $6 off my grocery bill each week. In fact, writing it down like that is making me realize that I really need to do this.
8. Buy in Bulk Wisely
You can definitely get good deals buying in bulk at stores like Costco and Sam's Club but do the math to make sure you're getting the deal you think you are. Check the price per unit (often on the shelf next to the price of the item). You might find that a smaller package actually has a cheaper cost per unit.
For example, a pack of 12 rolls of paper towels could cost 28.99 while a pack of 4 rolls could cost 9.48. At first glance, the bigger package seems like the better deal, but take a look at the unit price. The price per roll of paper towels for the 12 pack is around $2.41 and the price per roll of the 4 pack is actually $2.37 per roll. You're better off buying 3 of the 4 packs.
I've especially noticed this with cereals. The giant package seems like it's such a great idea, but the smaller package can often cost less per ounce.
Also, be sure to not buy more than you need when buying in bulk. That 5-pound container of sour cream isn't actually cheaper if it spoils before you can finish it.
Finally, don't be fooled by those $10 for 10 items sales you sometimes see. Ten Dollars for 10 cans of soup sounds amazing unless you know that soup frequently goes on sale for $.79 a can.
9. Go with Store Brands When Possible
This seems like such a no-brainer to me, but many people are still resistant to purchasing the store-brand versions of common products. So, would it ease your mind if I told you that 9 times out of 10, pharmacists and doctors will buy the generic version of common drugs like aspirin?
The most informed consumers know that store brands are often made by the very companies making the name brand product. Store brand products cost, on average, about 50% less than the name brand which is significant savings. Don't be afraid to try the store brand the next time you shop.
10. Save Money with Your Slow Cooker
The cheaper, slightly tougher cuts of meat like chuck roasts and lamb shanks are often avoided by shoppers because they can be tricky to cook. But these cuts are perfect for the moist, slow-cooking time of your slow cooker!
Try some of these slow cooker recipes and come home to an easy, inexpensive meal. Total win!
25+ Great Crockpot Meals Just Right for Two People
These slow cooker meals are perfect for two people. Just throw the ingredients in the crockpot in the morning and come home in the evening to a yummy smelling house and even tastier dinner. You'll put all of these slow cooker meals for two people into heavy rotation! This post may contain affiliate links. For […]
11. Ditch the Instant Oatmeal
If your breakfast comes in a packet, you're paying too much. Ten packets of Quaker Instant Oatmeal costs $2.50 at Walmart (25 cents per oz) while a box of One Minute Quaker Oats is $3.24 (7.7 cents per oz!). You make both of them by adding water and heating in a microwave so you're literally paying almost 4 times as much for the convenience of the packet and the artificial flavoring.
The same holds true for most convenience foods: the smaller the serving, the more expensive per unit it tends to be. And also less healthy.
By the way, if you've gotten hooked on the grab and go convenience of granola bars in the morning, you can totally make your own.
5-Ingredient Granola Bars | Minimalist Baker Recipes
5-ingredient, no-bake granola bars that are refined-sugar-free and so delicious! Healthy, quick, and portable- the perfect snack!
12. Make Your Own Frozen Foods
It's so convenient to take a frozen lasagna and pop it in the oven at the end of a hectic day but you're paying for the convenience when you buy pre-made frozen meals. You can take a few minutes at the beginning of each month to prepare a few easy freezer meals to have on hand that are cheaper than buying frozen meals and healthier too.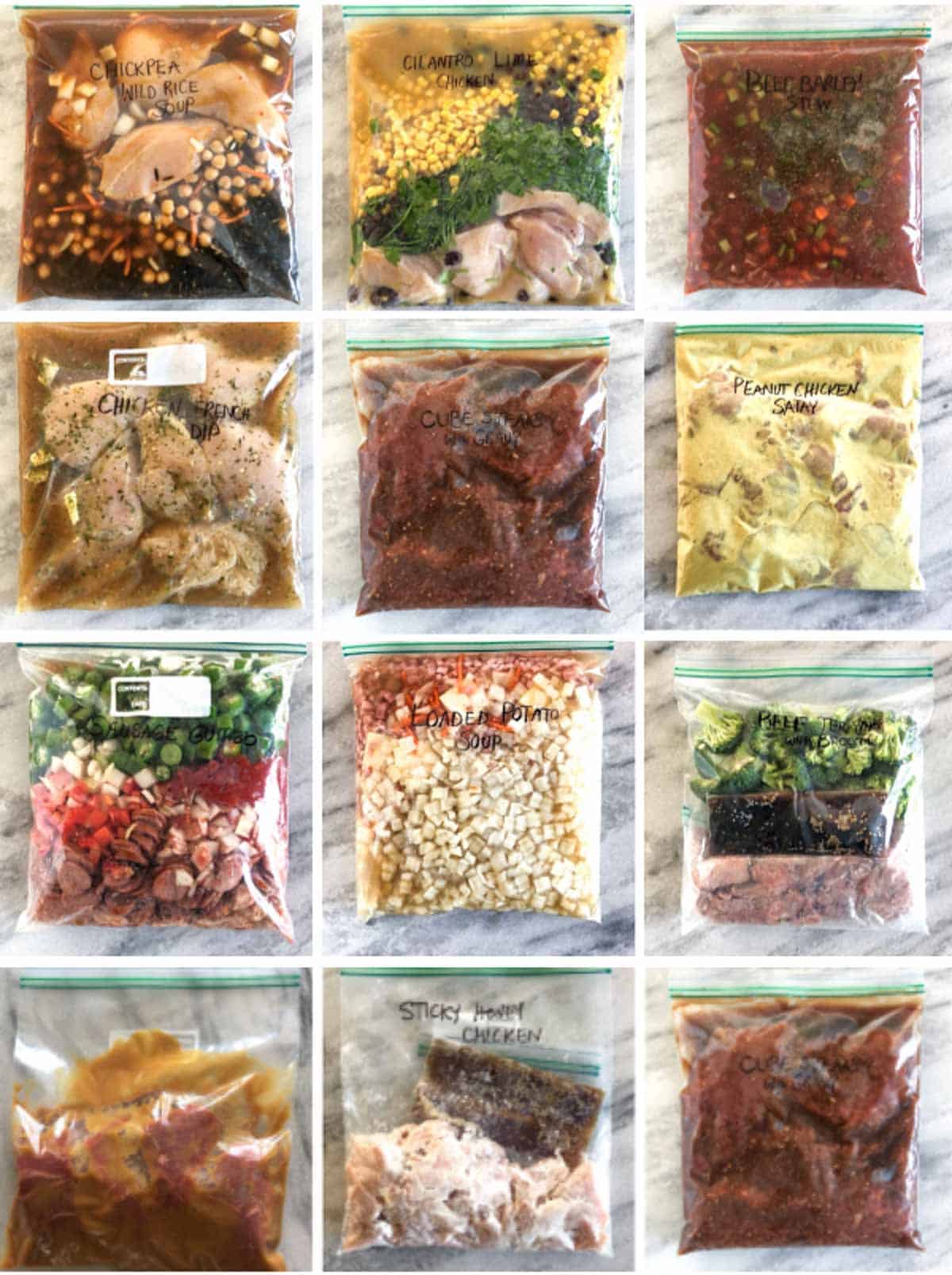 15 Actually Easy Freezer Meals (Seriously!) – HappyMoneySaver
Easy freezer meals (like, actually easy) do indeed exist, and I've created the best ones here to save you time – quick, healthy and no pre-cooking anything!
13. Keep Fruits and Vegetables Fresh to Avoid Waste
I'm a flat-out evangelist for Bluapples, tiny blue balls you keep in your crisper drawer with your fruits and vegetables. These magic things absorb ethylene gas, the gas the signals produce to ripen and will extend the life of your vegetables up to a week or even two.
You rarely see Amazon reviews for kitchen gadgets that start out with, "OMG THIS IS LIKE MAGIC!!!" but you do for the Bluapple and honestly, it really is kind of magical in terms of effectiveness. Get this and thank me when you can finally finish that giant bag of spinach you bought before it goes bad.
14. Avoid Pre-Cut Foods
Any time you opt for veggies that are already cut up or sliced, you're paying the store to do the work for you. Diced onions can cost up to $4.65 per pound versus $.99 for onions you chop yourself. And typically the quality of these diced onions isn't as good as the whole onions.
15. Shop for Produce and Meat at Your Local Ethnic Grocery Stores
Is there a Korean or Mexican market near you? Stop in some time and compare their prices for items like produce and meat to those at your local grocery store. Chicken breasts can often be $4-$5 per pound at your mainstream grocery store and cost less than $2 per pound at the Korean store down the street. Additionally, foods like tofu, that you might normally find only at Whole Foods for $5-$7 per pound can be as cheap as $2 per pound at your local Korean grocery.
16. Save Money by Including One or Two Meatless Meals Each Week
Meat is one of the most expensive items you can buy when grocery shopping. A recent study found that vegetarians save around $750 each year on groceries compared to their carnivore friends. You don't need to give up meat entirely but having a vegetarian meal occasionally is good for your health and your budget.
Here's an excellent list of options for your next Meatless Monday.
Meatless Monday Recipes – The Monday Campaigns
Meatless Monday is the perfect opportunity to try a new plant-based dish! Get inspired by our library of delicious recipes.
17. Save Money on Groceries and Gas with Checkout51
I've saved some significant money on both groceries and gas with the Checkout51 app. If I need to buy gas, I open the app and select an offer. (For example, I can get 10¢/gallon cash back at a nearby Shell station.) If I buy gas from that station in the next 4 hours, the offer is automatically applied.
You can also use Checkout51 to get cashback on specific items. You can browse their current offerings (for example, right now they're offering a $1 rebate for Honey Maid Graham Crackers) and then upload a picture of your grocery receipt to claim your offer. The money is banked into your account and you can request a check for the balance or transfer to Paypal once it reaches $20.00.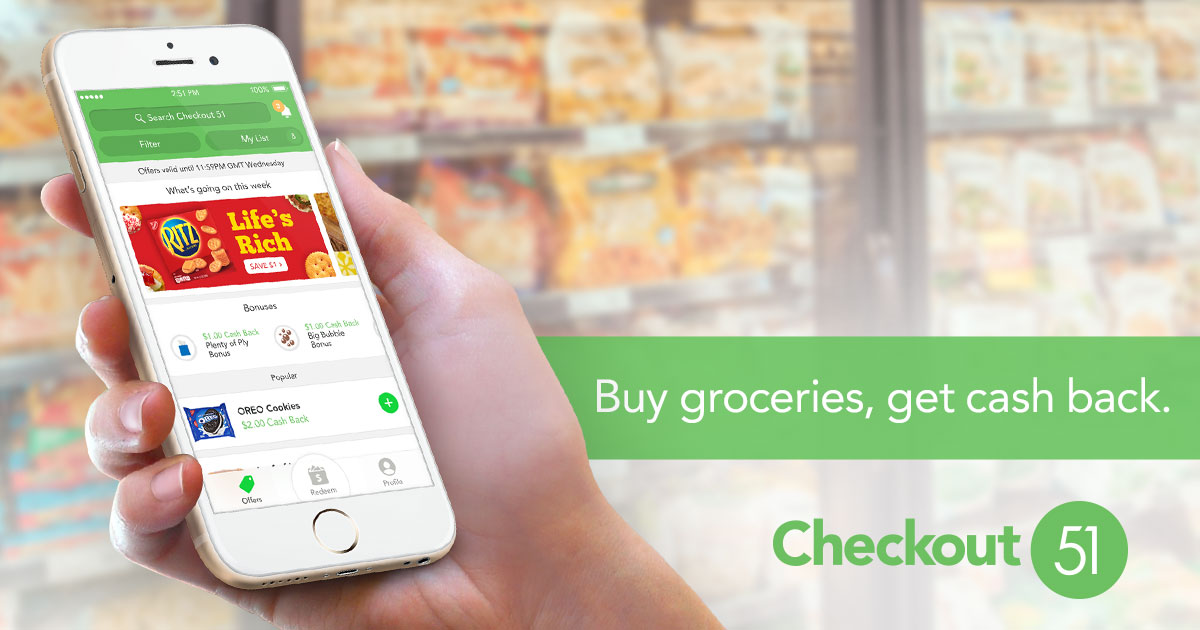 Checkout 51 – Save on the brands you love.
Save on the brands you love with Checkout 51: Get new offers weekly, buy from any store, snap a photo of the receipt and earn cash back!
18. Save Even More Money on Things You Buy By Also Using Ibotta
The Ibotta app wants to be your one-stop shopping source and they're willing to offer you big rebates to get you to go to their app first. You can get money back when you redeem offers on products from grocery stores, Target, Walmart, Costco, Sam's Club, a variety of restaurants, including Grubhub, and so much more.
For grocery stores and stores like Target and Walmart, you add your offers within the app just like you do with Checkout51 and then upload your receipt. (And the good news is that you can absolutely use both apps to save as much money as possible!)
Get Cash Back from Shopping Online & In-Store – Ibotta
Discover multiple ways to earn cash back online and in-store at nationwide retailers. Download Ibotta and start earning cash back today!
19. Look at the Top and Bottom Shelves
Manufacturers actually pay to have their products featured on the middle shelves right at eye level. These shelves aren't necessarily highlighting the best deals, just the most popular brands. Look on the top shelf and bottom shelf when shopping and you'll frequently find a similar product that's actually cheaper than the best seller.

20. Buy Carefully at the Dollar Store
Some Dollar Store Foods are cheaper simply because they are a smaller quantity so the cost per unit ends up being higher. Plus, prices of canned foods and staples like milk can often actually be higher at the dollar store than your local grocery store. You can sometimes find good deals but, this is a situation where it really pays to know your prices. (I told you that price book really comes in handy!)
Pin on Pinterest Now