I'm delighted to present a guest article from Adriene Lohr of the website Beyond Ages on how to succeed at online dating over 40. Beyond Ages is a website devoted to helping men over 40 navigate the dating scene so I know we'll all be interested in hearing some advice from a different perspective!
Whether you're newly single or have been on the market for some time, if you're over 40, dating looks a lot different now than it did when you were in your 20s.
No matter your situation—never married, divorced or widowed—chances are you expect something quite different from your love life than you did a few decades ago.
The important thing to remember is this: there is someone amazing out there for you (check out these amazing couples for inspiration). Unfortunately, finding "the one" is rarely easy. That's why we've put together some tips on how to make your dating life a success. So if you're ready to give your dating life a boost, read on.
20 Couples Who Met and Married After 50 Who Will Make You Believe in Love Again
Think you can't find love and get married when you're over 50? Think again! Whether you're hoping to remarry or thinking about getting married for the first time, these stories of 20 couples who met and married after 50 will boost your faith in love. This post may contain affiliate links. For more information, see […]
1. Have Realistic Expectations
Finding someone great isn't impossible, but it does take patience and a healthy dose of pragmatism. Even if you date a few frogs before finding your prince or princess, the process can and should be fun.
The key to enjoying dating is having realistic expectations. While you may be a woman who finds fit men with dark hair and are over six feet tall very attractive, limiting yourself to a physical type will likely mean you're missing out on some great men. The same premise holds true for men who rate women based on appearance alone.
So, if you're dating online, resist the urge to swipe left or discount a potential match's message based solely on appearance. Rather than making your must-have list be about appearance, focusing on other important characteristics is more fruitful. Should he be kind, intelligent, or funny? Should he be responsible, gentlemanly, or quirky? Do you want someone who values family? Are you willing to date a single parent? Do his or her career and social status matter? These are the types of things you should consider and use to gauge compatibility.
When you find a mate who has all the qualities you desire, his appearance may not be quite as crucial as you first thought. Remember, even if a potential match's photo doesn't set your heart aflutter, that doesn't mean there won't be chemistry when you meet in person.
2. Give Online Dating a Shot
Online dating is kind of like a smorgasbord. It offers access to a wide variety of singles looking for a partner. If you check out expert reviews about various dating apps, you'll know which sites have a proven track record and a large membership base. Both of these are important if you want to increase your chances of finding a relationship.
Once you've downloaded a great app, it's time to enjoy the experience. One of the best things about meeting singles online is that it removes the pressure you'd typically experience during an in-person introduction. Online, if someone isn't interested, it's not awkward or embarrassing like it would be face-to-face. You simply move on to your other options. And, when you do eventually meet up with a match, that first date will be much less stressful because you can continue the conversations you've been having online.
Speaking of options, if you've chosen a good app, you'll be receiving matches daily. The great thing about this is that matches are sent to you based on compatibility. When you know you share common interests and opinions with someone, that makes it much more likely your first date, and subsequent ones will be a success.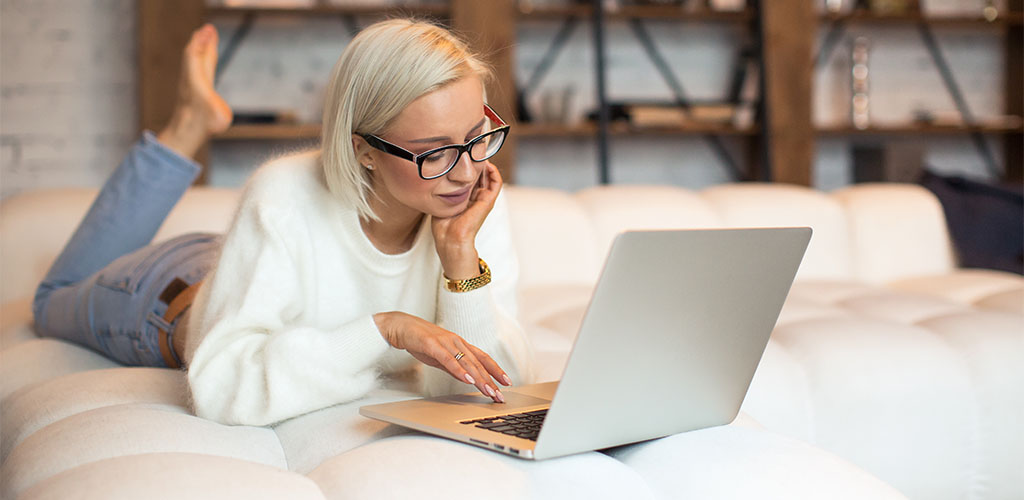 9 Top Dating Sites That Actually Work in 2020 (Free & Paid)
There are so many dating sites these days it's hard to tell what actually works. These are the best dating sites around that are proven to deliver.
3. Make your profile a priority
Your profile can make or break you when it comes to online dating. If your bio is boring, barely filled out, or too suggestive, you can forget about finding any dates.
Your profile should be treated like an interview where you put your best foot forward. First impressions matter, so choose at least two or three flattering photos to post. Next, listing your most desirable and positive personality traits is a smart move. Whether your strength is your sense of humor, your intelligence or compassion for others, let that shine through in your bio.
No matter what, make sure your bio is an authentic depiction of who you are. This will help you to attract partners who could actually be a good fit for you.
Dating over 50 Advice to Help You Attract the Relationship You Want
This Dating Over 50 advice can help you attract the relationship that's right for you. If you're a woman over 50 and dating – whether it's online dating or another route, don't fall victim to the myth that "all the good men are taken." That's absolutely not true. If you're looking for a relationship, use […]
4. Consult Dating Experts
Whether you've been out of the dating race for a while and feel a bit rusty or are simply looking for some direction, who you ask for advice matters. As well-meaning as your sister's or your BFF's advice is, it's not a replacement for an expert's opinion.
If you can afford it and feel comfortable doing so, hiring a dating coach is a great move. Not only can they offer you valuable advice and insight, but they can also help you learn how to present your very best self on your dating profile or first date. Just be sure your coach is certified with the International Coaching Federation (ICF) and has a wealth of satisfied clients.
If that's just not in the budget, don't worry. There are a number of amazing sites online that offer solid dating advice.
The two best sources for information about online dating, for instance, are reviews and listicles. A good review will give a detailed account of the writer's personal experience with the dating app in question. Listicles from authoritative sites also offer easy-to-read advice about dating in general. They can give you valuable tips on how you can find success in your dating life. Just remember to stick to well-known sites that offer a professional-style of writing.
5. Be Positive and Confident
We get it. It's easy to look at the negatives of dating when you're over 40. But being a Negative Nellie not only brings you down, but it also lessens your chances of meeting someone great.

Remember, nothing is sexier than a positive and confident person. Even if it doesn't come naturally to you, there are ways you can be both optimistic and self-assured. Make a list of your positive characteristics and all of the blessings in your life. Create a vision board full of inspirational sayings. When you focus on what is good, positivity and confidence will follow.

And when you exude these two traits, you may be surprised out how much more success you have in attracting potential partners.
How to Make a Vision Board that is Mind-Blowingly Effective
Want to learn how to make a vision board? A vision board is a collection of images designed to help you focus on a dream or goal you have for your life. I've been making vision boards that really work for years and today I'm sharing my process for creating powerful vision boards that deliver […]
6. Stick to Low-Pressure Dates
One of the worst things to do when meeting a person for the first time is to make a date for drinks. Sitting across from each other in a bar or coffee shop with nothing to do but try to make conversation can be a recipe for disaster.
This type of date can put a lot of pressure on you and your mate. Instead, plan a first date with some activities in mind. Grab coffees and go for a walk in the park. Go to a museum or a local attraction. This way, if the conversation stalls, you can talk about what you're seeing or doing. If it goes well, you can graduate to drinks or dinner.
7. Focus on Fun
One of the worst mistakes you can make as a 40+ dater is looking too hard for love. After all, you're not getting any younger. You need to make love happen before it's too late, right?
Wrong. When you act out of desperation, it's pretty unlikely you'll find what you're looking for. Instead, enjoy the process. Go out on dates simply to meet new people and have fun.
You may meet someone amazing right away and you might not. It may take a few months or even a few years. And that's OK, because true love can't be forced. So be patient and enjoy your life as it is right now. When love does happen, it will make all of the waiting worth it.
Dating over 40 may seem scary, but it can be exciting and rewarding. So put yourself out there, explore the world of modern dating, and best of all, have fun!
Related Posts
Pin on Pinterest Now